We want to thank Molly Sorge as this Article is courtesy of The Chronicle of the Horse magazine, please visit www.chronofhorse.com to subscribe.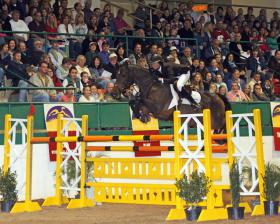 Arkansas, an off-the-track Thoroughbred, topped the $30,000 Duke Children's Benefit Grand Prix with Hillary Simpson. Anne K. Gittins Photo
Hillary Simpson has a couple of warmbloods with fancy pedigrees in her barn, but her first grand prix win came on Arkansas, an off-the-track Thoroughbred showing in his first grand prix.
"It was really exciting, and I was so thrilled with him. He just tried so hard, and it was fun to have it be both of our first wins," said Simpson after their victory in the $30,000 Duke Children's Benefit Grand Prix in Raleigh, N.C., on Nov. 10. "I'm just so proud of Arkansas. I can't believe it was his first grand prix and he won; I'm so thrilled. I'm giddy! I looked at all the pictures, and the only thing I'm doing is patting him."
If you'd looked for Arkansas, a 9-year-old Thoroughbred gelding (Cornish Snow—Western Hula, Pembroke) at the 2011 Duke Children's Benefit, you would have found him in the 3' hunter ring with Simpson. Event rider Susan Beebee had sent "Denis" to Simpson for some show ring mileage and to get sold as a hunter, since he has a classic style over fences.
"No matter what, he just never really relaxed in the hunter ring," Simpson said. "He was never bad; he was just like, 'I don't understand going on a loopy rein and cantering around looking pretty.' But he wants to go, and he loves a challenge. We took him in one schooling jumper class, and his whole character changed. He just loved it."
By December, no one had bought Denis, and Simpson and her husband, William, had fallen in love with him. They bought him under the name of their business, Palmyra Enterprises LLC, and shipped him to the FTI Winter Equestrian Festival in Wellington, Fla., for the winter season. Denis jumped in a few schooling jumper classes, then moved right up to the 1.30-meter jumpers. He finished the WEF circuit as the reserve circuit champion in the 1.30-meter division.
Good Decisions
Denis showed throughout the summer, gradually moving up. By the Hampton Classic (N.Y.) at the end of August, he was consistent in the 1.40-meter classes. "Almost every time we moved him up, he's won a class," Hillary said. "He's just done everything we've asked him to. We've been fortunate enough to be able to keep him for a bit, and we just make good decisions of where to move him up, where to show him, and when to rest him. We gave him a rest after the Hamptons because he'd been going strong all through Florida and the summer, and he got bored in his stall and was like, 'OK, back to work.' He's just been a lovely horse to have around."
Hillary, who runs her business out of Southern Pines, N.C., chose the Duke Children's Benefit show, with it's U.S. Equestrian Federation national standard (1.40 to 1.50-meter) featured class, for Denis' first grand prix. "That show is a great place to win. It's close to home, and the stadium was packed," she said. "I couldn't see an empty seat, and when I trotted in the ring for both rounds, people were screaming and cheering. In the middle of the jump-off, I could hear people yelling for me to go faster, so it was even more fun."
Watch Hillary's video of Denis' night at the Duke Children's Benefit…
And Hillary thinks Denis has finally found his niche. "He jumped easily on Saturday night. He was fourth in the welcome, and he was double clear, and he was just happy to step up and say, 'I can do this job,' " she said. Denis was bred in Arkansas and raced and won under the name Blackcuda until he was 6, then gave eventing a try before finding his way to the Simpsons.
Hillary didn't mind his Thoroughbred breeding at all. "We love Thoroughbreds. I've had a couple of really good ones growing up, and I had a really good amateur jumper, Meant To Be, who was a Thoroughbred," she said. In fact, the Simpsons have two other Thoroughbreds in the barn, one that shows in the adult amateur jumpers and one that has just started in the hunter divisions.
"I think that they're athletes, not that warmbloods aren't, but they just love a challenge," Hillary said. "I think for the most part, as long as you don't let them think that they can't do something, they will give it their all. That's not to say that every single one is going to be an absolute superstar, but I think if you can find the right type and the right mentality, they have so much heart and they try every time out."
Hillary is excited to continue Denis' development during WEF next year, though he'll have some strong competition in her other grand prix horses.
Where She Wants To Be
Hillary, 34, also has talented grand prix rides in Cantus D, a 10-year-old Belgian Warmblood gelding, and Nopus du gue Joubert, an 11-year-old Selle Francais gelding. Most recently, she and Nopus du gue Joubert were fourth in the $250,000 Alltech National Horse Show Grand Prix CSI-W [4] (Ky.). She's been steadily building her string since re-starting her career in 2006.
Hillary grew up winning as the daughter of top trainer Christina Schlusemeyer. She claimed the grand championship at the USEF Pony Finals at the age of 7 and went on to win the USEF Show Jumping Talent Search Finals-East (N.J.) and Pessoa/USEF Medal Finals (Pa.) in 1996. During her college years at Rollins (Fla.), she rode as an amateur and competed in her first grand prix classes. In that time, she met her future husband, William, who also rode as an amateur.
But in 2000, Hillary left the horses behind. She and William started a business in the culinary industry. They ran that business successfully for six years but then sold it to start her training business in 2007. "It was nice to get a little bit of a different business perspective, which I think helps any business that you run in the future," she said. "The whole time I was out of it, everyone said to me, 'You can't not ride!' But it was a good break and it was nice. Growing up with my mother and in a big barn as a professional's daughter, there were a lot of easy answers, just filling that role. It was nice to get married and take a breather to gain a little perspective on how I wanted to do the horses."
Hillary's return to the show ring hit a snag in 2009 when a fall from a horse resulted in a shattered hip and a broken femur. Surgery followed, and Hillary took eight months off from riding to heal completely. In that time, she developed the teaching side of her business. By early 2011, Hillary knew the grand prix ring was her ultimate goal, and Cantus D and Nopus du jue Joubert joined her with her mother's help. "I've really been able to sort of develop the business that I want it to be. It's small enough that it's manageable, but I've got lovely clients and horses," she said.
And she and William, who celebrated their 10th wedding anniversary the night before her big grand prix win, share the business responsibilities. "He doesn't ride as much anymore, but he's a big part of it and helps me on the ground all the time with the horses. He helps me get to the ring. It's a nice team effort, and it's nice that he shares my passion for it. He's super supportive," Hillary said.